This is how I spent my day and I enjoyed every relaxing minute of it. Click
here
for a peek of what it looked liked before (was not loving the wood legs, I know my hubby thinks I am crazy).
I prepped the legs of this day bed or should I call it a huge a** ottoman? It's as big as my sofa!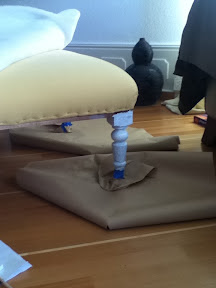 Then I used paint primer.
First coat of black paint going on.
And the finished product! Love the black finish with the brass!
Stay tuned as I will be putting a new Designer Guild fabric on it tomorrow!
- Posted using BlogPress from my iPhone